Work has been pretty nuts lately. On Monday, the only times not blocked-out on my calendar were 8:00-9:00, 3:00-3:30, and 4:30-5:00. Today wasn't much calmer. Yikes!
Every day at lunchtime I try to escape from the stress and listen to a little music, which helps tremendously. It's pretty funny to think that for several years there I didn't even listen to music every day... it's like I forgot, for a while, how much music can feed me. If I ever forget that again, somebody smack me, ok?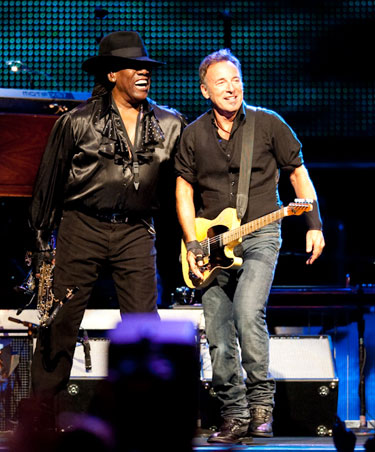 photo from backstreets.com
Speaking of which, just a few more days until I run off to join the E Street Circus yet again. Just one night this time, in Chicago; and it's going to be a slightly different show than any I've seen before, as they are going to perform the entire "Born to Run" album (along with other stuff of course).
I was initially pretty bummed because I did not manage to snag a general admission (floor) ticket for this one, and my reserved seat is not (by my standards) all that great -- it's way at the far end of the arena. Oh, I'm such a spoiled girl. But then an opportunity arose which I would not have been able to take advantage of if I'd been in GA, because I would've been standing in line before the show and not available: I will be helping to pass out promotional flyers advertising E Street sax player Clarence Clemons' forthcoming book,
Big Man: Real Life & Tall Tales.
I know it's just a couple hours of passing out flyers, but I'm pretty thrilled to be able to help out even in this small way, to be a tiny little part of things. I was already excited about the book (I heard from someone who got a galley and he said it's pretty entertaining), so it will be fun to try and share a little of my excitement with a bunch of happy concert-goers.
And hey, what could possibly be more "up my alley" than promoting a book at a Springsteen show? Jeez, throw a cat or two in there and you pretty much have my entire life covered! :)
So, uh... not much poetry lately, I'm afraid. I do have a reading coming up with one of my writing groups -- October 10 is the annual reading by Five Women Poets, at Rachael's Cafe here in Bloomington IN. Hopefully I can drag myself back into "poetry brain" between now and then...