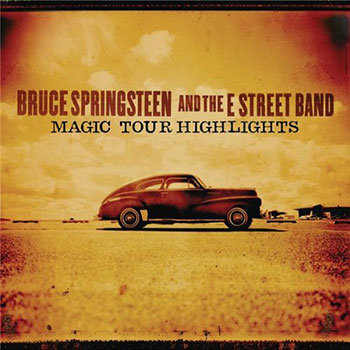 Just downloaded the brand-new digital EP from Springsteen & co., "Magic Tour Highlights." This consists of 4 tracks (the iTunes package includes both audio & video for each, as well as a little pdf "digital booklet" with some photos and credits) from the spring 2008 leg of the tour. Each track is from a different show & features a special guest:
"Always a Friend" with Alejandro Escovedo. The song is Escovedo's, and it's a nice piece of pop. On the video you can tell Bruce is having a good ol' time singing this, and you can also tell Escovedo is just tickled as all heck to be on stage with the Boss and the band. Fun.
"The Ghost of Tom Joad" with Tom Morello. This is the highlight of the EP. The acoustic "Tom Joad" is completely reinvented as a hard-hitting rocker (the arrangement is a bit reminiscent of "Youngstown" on
Live in NYC
). Some great guitar-dueling between Springsteen and Morello, and a total rip-your-face-off solo from the latter. Amateur video of this performance is all over YouTube, but here it's been very nicely remixed so you can hear things like Roy Bittan's piano a lot better -- the sound is actually quite good. If Bruce does (as rumored) plan on at least taking some time off from E Street Band work, my vote for his next project is a whole album of Springsteen/Morello collaborations. Because this is just awesome stuff. If you're a Rage fan, even if you're not that big on Springsteen, go download this one track. Seriously.
"Turn, Turn, Turn" with Roger McGuinn. This is so, so nice. Just tasty stuff. Adding to the resonance of it is the knowledge that it was recorded only about a week after Danny Federici's untimely death, and it's clear that Bruce was singing with a lot of feeling behind this classic song. At the end Bruce gives a deep "I'm not worthy!" bow in McGuinn's direction. Too cute. :)
"4th of July, Asbury Park (Sandy)" with Danny Federici. Danny (one of the original members of the E Street Band, going back to the early seventies) had been off the tour since October undergoing treatment for melanoma. On March 20, in Indianapolis, he joined the band one last time for several songs; this was one of them. "Sandy" was one of Danny's signature tunes, featuring his accordion work that gives the song its seaside boardwalk flavor. I don't know whether either Bruce or Danny realized this would be the last time they performed together or not; Danny died about a month after this show. I was at this show and I'm just so glad to have a little souvenir of what was a very special night.
Perhaps the coolest thing is that all of the songwriters, musicians, music publishers, & the record label are donating their profits from this EP to
the Danny Federici Melanoma Fund
, which supports research. iTunes is donating its profits for the first year, as well. It's available on iTunes, amazon.com (though I don't think they have the videos), and elsewhere too I think. Well worth purchasing. Good music for a good cause -- what's not to love?