So last week I spent a few days with my mom in northern Indiana, then drove to Chicago, flew to St. Paul, flew back to Chicago, and drove back home. All for the love of rock & roll. It wasn't quite as epic as
last summer's road trip
, but it sure did have its moments.
One thing I was looking forward to was the new kid on the drums. Max Weinberg, who's been the E Street Band drummer since the mid-seventies, has a "day job" as bandleader for the Conan O'Brien show – and with Conan taking over Leno's timeslot, Max won't be able to miss the first few weeks. It was revealed a few months ago that Max's 18 year old son, Jay Weinberg, would be sitting in for at least some of the European shows that Max won't be able to make – and Jay's been warming up by playing at least portions of most of the recent U.S. shows (though he didn't make an appearance at the Denver show I went to). Now, Jay's usual gig is with a metal band, and did I mention that he's 18? Just… yeah. I have to admit that my first reaction was "An 18-year-old metalhead? Has Bruce Springsteen lost his freakin' mind??" But I'd been hearing good reports from the shows Jay had played so far, and I was dying of curiosity to see for myself.
The St. Paul show opened with "Badlands" and Jay was on the riser – and holy crap, people! The kid's impressive! "Radio Nowhere" is his real showpiece – long black hair flying, bringing the thunder like nobody's business. I immediately became a convert. True, he doesn't have the precision, the consistency, or the depth of repertoire that his father has. Nor can he read Bruce's mind quite the way his father can after so many years. But let me tell you, the kid makes up for it with his passion, enthusiasm, power, and joy. He is SO much fun to watch. At about the halfway point of the show Max took over, and the changeover was just incredibly sweet – both Bruce and Max visibly busting with pride, giving Jay hugs and high-fives, the audience ROARING as Jay took a bow. (And for the rest of the show Max played, if anything, even harder & better than usual, & his "usual" is damned amazing -- a little challenge from the younger generation never hurts, I guess!)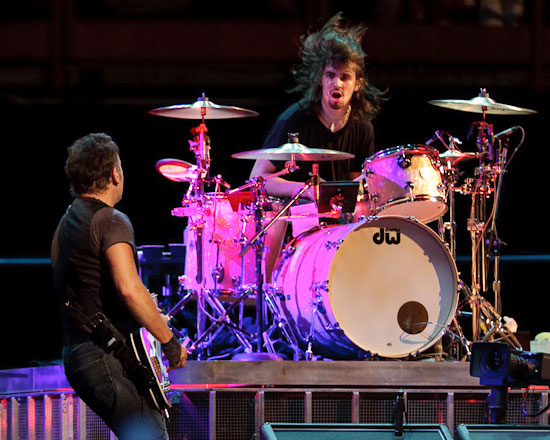 [photo from backstreets.com]
Understand: the E Street Nation is very, very protective of its little band. We're incredibly lucky in that most of the guys in the band are the same ones many of us fell in love with thirty-plus years ago; and we don't much care for change, or for new faces. So to see the audience embracing the "new kid" was sweet indeed. Does it help that he's "family"? Sure. I wouldn't deny that. There are lots of competent, even brilliant, drummers (my hometown guy Kenny Aronoff comes to mind) who could have stepped in to get the job done. But they would have just been hired hands. So the blood connection does make a difference. That said, Jay had to win us over on his own – it wasn't a gimme. And he did so with gusto.
A little known fact about the younger Mr. Weinberg: "Jay" is actually his middle name. The whole show I found myself calling him by his full name, which is HOLY CRAP JAY WEINBERG. I heard more than a couple of other folks using his real first name as well. Seriously!
Anyway, so St. Paul was a pretty good show. But Chicago's what I really want to talk about. See, I had general admission tickets both nights. The way they work GA is this: you show up at the venue between 2 and 5:00 on the day of the show with your ticket in hand, and you get a wristband. The wristband has a number on it. Around 5:00 they start getting people lined up in numerical order. Once people are sort of lined up they let you know how many wristbands have been given out (around 1200 in St. Paul and a little less than that in Chicago), and they let you know how many they will be allowing into the "pit," which is the partitioned-off section right in front of the stage. (600 in St. Paul, 550 in Chicago – it varies by venue.) They draw a "random" number, and the person whose wristband matches that number gets to be first in line. It generally works more or less okay, and keeps people from sitting in line in front of the venue all night like in the bad old days.
ANYWAY. In St. Paul, I didn't get into the pit, and in fact I had a good couple hundred people ahead of me going into the main GA area, so I had quite a few people in front of me – at 5 foot 1 this is an issue! – but honestly I still enjoyed it more than I would have from a seat. The energy is higher on the floor, and those of us who like to stand up and dance and shout and sing the whole show don't have somebody behind them begging them to please sit down. But still… you want that magic number, you want to be close. In Chicago, my wristband was #782. I stood in line, surrounded by strangers, my heart pounding as they drew……… #747. I was in!! Not only that, but I was WAY in… I knew at that point that I'd either be in the very front or at most I'd have maybe one person between me and the stage. Oh, the glee! Oh, the anticipation! Oh, the people high-fiving and texting their friends! 20,000 people in the United Center and we're going to be in front of
all
of 'em!
We were ushered into the arena a good couple hours before the show, so most of us used the time to sit on the floor and relax while we could. Some people brought in food and enjoyed their dinner. Lots of chatting, reminiscing about shows past, getting to know your neighbors. I always meet really great folks at these shows, and St. Paul & Chicago were no exception. A few times I stood up to stretch and just gazed at the stage… right… THERE… within touching distance. The stage is like an altar to me, a sacred thing, set with the implements of magic: guitars, microphones, Soozie Tyrell's violins, Roy Bittan's white piano. There's a comfort in seeing water and setlists set out for the band members a few minutes before showtime, in the ritual of the last-minute soundcheck. I've never been a performing musician, but looking at that stage just feels like home to me. It's funny.
And then that magic, magic moment when the lights go down. The crowd erupts and under cover of darkness, one by one, the musicians slip onto the stage. And the lights blaze up and the band crashes into "Badlands" and I'm out of my mind with giddy delight. It's funny, being six feet from the musicians – the show is BIG: grand gestures, full voices, everything devoted to pushing the songs' energy all the way up into the rafters. Being so close to that is like chatting with someone who's in full stage makeup – it's TOO vivid, too big, too MUCH almost. It takes a little getting used to. (Oh, but I can get used to it… oh boy can I ever.)
It's a different show, being close enough to actually interact with the band a little. Close enough to get hit with a flying drop of sweat (Bruce sweats like a horse and he plays that guitar pretty hard… it's actually fairly unsanitary up front *grin*). I was, in an uncharacteristically brilliant move, wearing my favorite tie-dye "Little Steven's Underground Garage" t-shirt, and as luck would have it, I was planted squarely in front of Little Steven himself. It was a fun moment when he noticed the shirt and gave me a big smile. (And then at the end of the show, he came over in my direction and handed me a guitar pick – someone else was reaching for it and he was very careful to make sure it got into MY grubby little hands. Swoon!)
I actually find, when I'm up close, that I only end up watching Bruce about half the time – even though he's pretty much the greatest and most charismatic performer in the history of rock & roll. I just love watching all the other band members as they rally round to support his vision – the little interactions between them, the scrambling when Bruce changes up the setlist on the fly, the dedication and love that every one of them puts into the music. It's a remarkable band, made up of (from everything I have heard from people who know or have met them) remarkable people. Yes, it is Bruce's vision and commitment (and NOBODY, nowhere, conveys pure
commitment
in their performance like Bruce Springsteen does) that's out front leading the way, but the E Street Band is a magnificent machine: the sheer virtuosity of Nils Lofgren and Roy Bittan; the mighty thunder of Max Weinberg; the heart and soul and rock&roll conviction of Little Steven; the reliable foundation of Garry Tallent's criminally underrated bass playing; the "biggest man you've ever seen," mountain of love, Clarence Clemons… it's like a bumblebee, this band: with that many strong-minded individuals on stage, it should be physically impossible for it to fly -- but fly it does. Oh baby… fly it does.
[photo taken with my crappy cellphone camera. that's Bruce up there standing on the piano.]
Next up: Sex, Drugs, and Rock & Roll (except not so much with the drugs part).