I was awakened just past 5:30 this morning by the earthquake that shook much of the Midwest (a magnitude 5.2, epicenter just over the Illinois line). I didn't know it was an earthquake, though! I'd never felt one before, so when I woke in the dark to hear everything in the house rattling my first thought was
oh, the garbage truck
-- but (although it does come about that time on Friday mornings) the garbage truck doesn't rattle all the windows. Then I thought
must be thunder
-- even though there weren't any storms in the forecast, and there wasn't any lightning, and it didn't sound quite like thunder.
Trees falling? Large animals dancing on the rooftop?
I couldn't figure out what the hell it was, but eventually it stopped and my heart slowed back to its normal rhythm and I decided the house wasn't falling, so I fell back to sleep.
When I woke again an hour or so later to the sound of the radio, they were saying something about an earthquake.
Ohhhhhhhh!
I said to myself. That explains it!
The radio also gave me
a nice little tribute to Danny Federici
, playing the last bit of "
You're Missing
" when his organ solo kicks in -- so plaintive and mournful and yet rising with hope. And I got sad about his death all over again.
Later on in the morning, about 11:15, I was sitting in a small conference room with my boss. I had my back to the door, and the door started rattling. I turned to see who was trying to get in, and nobody was there.
Knock knock. Who's there? Aftershock. Aftershock who?
(That one was a 4.5.)
I'd never felt an earthquake until today. It's quite unsettling.
At lunchtime I drafted a bit of a poemy thing. It's pretty sentimental, but it was that kind of day really.
[there was an elegy sort of thing here ... if you want to see it, especially Bruce/E street fans, feel free to email.]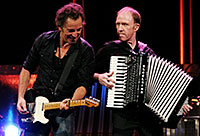 photo credit: Guy Aceto/Backstreets
And the poets down here don't write nothin' at all,
They just stand back and let it all be...